Clifton Community School students must be in perfect uniform at all times.
Whenever students are wearing the uniform, they are representing the school.
If for any reason a student arrives at school in the incorrect uniform, they will be loaned the correct item for the day.
No student will be allowed to lessons unless they are in full, correct uniform.
The headteacher will make the final decision of whether items of uniform are acceptable.
If you are unsure whether or not certain items of uniform meet our uniform requirements please check with school before you purchase them.
All school uniform items can be purchased from:
Pinders School Wear
College Street
Rotherham
S60 1QB
01709 720043
Johnny D
33 Howard Street
Rotherham
S65 1JQ
01709 370032
WPT Uniform Bank
Clip on tie with the school logo
White shirt
CCS black jumper or cardigan with WPT logo
Black trousers or skirt with WPT Logo
Black shoes with no logos
Plain school bag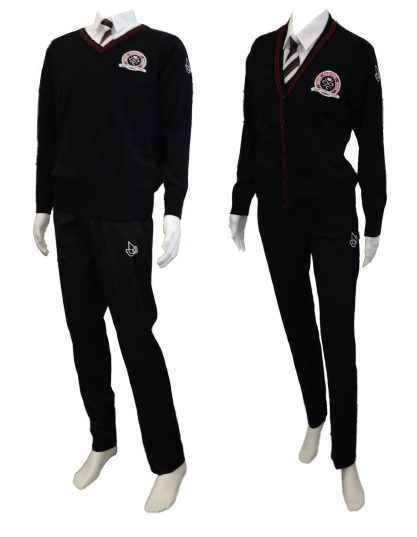 Our burgundy PE hoodies are optional but highly recommended by our PE staff. Students may choose to wear either black shorts or black tracksuit bottoms (both with the school logo).
The uniform consists of:
Burgundy t-shirt (printed initials optional)
Burgundy hoody (optional, printed name also optional)
Black shorts or black tracksuit bottoms
Black socks
Sports trainers