Welcome to the Clifton School Library.
It is a bright, light and welcoming environment – ideal for study or quiet reading – and is open to all students during both breaks.
The library houses a large range of regularly updated fiction and reading for pleasure is encouraged. We also offer a varied non-fiction collection to support the curriculum and newspapers for keeping up to date with current affairs.
Students at Clifton are automatically enrolled as members of the library on their first day at the school and have full access to the facilities we offer throughout their school journey.  Books can be borrowed for a period of 2 weeks and students in Years 7 and 8 will also have an Accelerated Reading lesson in the library with their English teacher. In these lessons, students will be given the opportunity to take an online quiz on the books that they have read and will be rewarded for achieving high scores.
There are 8 computers in the library that can be used before school, during break and at lunch time.  A printer is also available for students to print any school and homework and basic stationery items can be purchased from the library before school each day.
The library noticeboard displays up to date details of extra-curricular clubs and activities across the school and Intervention Mentors are based in the Library after school each day to support students with homework tasks.
A timetable of daily activities is displayed on the noticeboard in the Library.  This includes details of when the computers can be used for playing games and of the after school clubs on offer.
Author & Book of the Week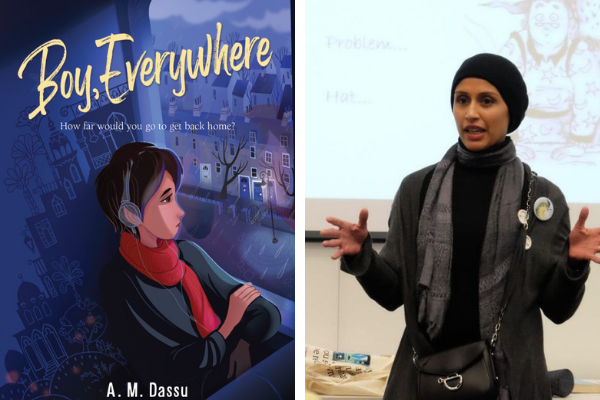 A.M. Dassu - Boy, Everywhere
This debut middle-grade novel chronicles the harrowing journey taken by Sami and his family from privilege to poverty, across countries and continents, from a comfortable life in Damascus, via a smuggler's den in Turkey, to a prison in Manchester.
A story of survival, of family, of bravery … In a world where we are told to see refugees as the 'other', this story will remind readers that 'they' are also 'us'.
'Told with unflinching honesty and courage, Boy, Everywhere documents the refugee experience as a well-to-do Syrian family endure hardship and incarceration on the journey to beginning a new life.'
'... a story that everyone should read, written with empathy, tenderness and hope.'.
'Carefully researched, wholly convincing, it's a gripping, uncompromising debut, super-charged with the power of empathy.'